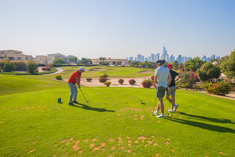 Dubai, United Arab Emirates
We are thrilled to announce the registration for the 3rd GMP Championship 2018 in Dubai is opened.
Location: The Address Montgomerie Dubai P.O. Box 36700Dubai, United Arab EmiratesThe Address Montgomerie Dubai GPS Location - 25° 4' 2.946", 55° 9' 51.7314"
Number of Participants: 32
Format: Match Play
Full handicap.
Every January all GMP golfers, who are on the Main Leaderboard, are invited to join the WORLD championship in DubaI and compete in an international event at one of the most exclusive golf clubs in UAE - The Montgomerie Golf Club.
During the year 2017 GolfMathcPlay is running a number of events worldwide and giving away Wild Cards with $500 and $1000 sponsorships for the Dubai Event. We invite all golfers, that are on the Main Leaderboard, to initiate golf events in their different locations.
Keep in mind, that all members have the deadline for playing matches till 30 November 2017; the registration of the matches can be proceed till latest 14 December 2017. All matches, played and registered after the deadlines will not be considered in the Main Leaderboard 2017 and will not be included into Sponsorships.
Review the Terms and Conditions of the Sponsorship and Wild Card to Dubai here.