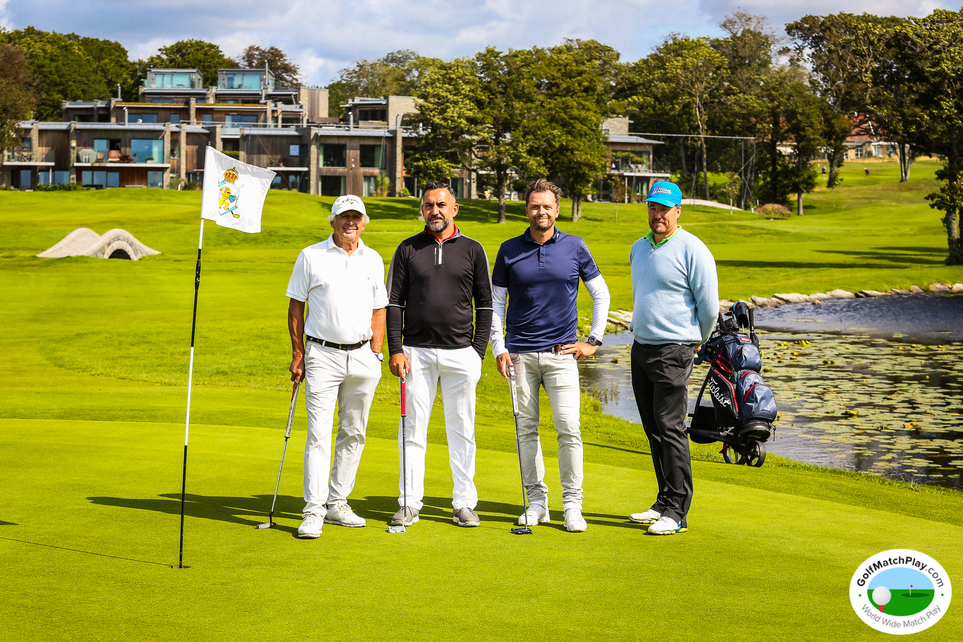 Golfbanevägen 17, 436 50 Hovås, Sweden
GolfMatchPlay introduces Business Match Play Tour with the aim at networking business minded persons through golf matches thereby enabling better and more business, in the same time creating excitement and great memories.
The Business Match Play Tour is suited for companies that are not big enough to have capacity to arrange their own tournaments and do not have enough valued customers that play golf. The concept offers the flexibility for companies to invite their valued customers playing golf and sponsor the event accordingly.
On 21 August 2019 GolfMatchPlay launched the very first Business Match Play Tour in Sweden. Aspiring to the selective networking and quality corporate event, GolfMatchPlay created the best business atmosphere for the Companies to connect and play golf.
GolfMatchPlay together with the sponsors of this event, gathered 23 players to play the match competition to combine business and golf networking. Hereby we are honored to present all the sponsors of the event:
- LEXUS Gothenburg: Luxury vehicles company
Lexus has been the unique sponsor of the LONGEST Drive and CLOSEST to the pin contests. Philip Mork won the exclusive Callaway Golf Beg with Lexus logo by being closest to the pin on the hole #17. ingemar Karlsson had the longest drive and has been rewarded with exceptional Lexus golf set with logo golf balls and elegant pitch fixer.
- CALLAWAY Sweden: leading Sporting goods company
Sponsored 3 pairs of socks from Callaway, 4 Callaway glowes, Big Callaway Towel, 2 sets of 12 Super soft Callaway Golf Balls, 4 Callaway caps
- QATAR AIRWAYS: the state-owned flag carrier of Qatar Sponsored 4 Pique T-shirts with Qatar logo
- MRG WINES: Quality still and sparkling wines – liberated from alcohol
Sponsored wine tasting during lunch and award ceremony. Presented 5 bottles of Richard bJuhlin non- alcoholic sparkling wine to random winners of the lottery.
- GOLF MODE #1 – golf shop with a wide offer
Sponsored 4 Callaway gluws, 2 Caps, 4 sets of 12 Srixon Golf Balls, 3 sets of 15 Strata Smash Golf Balls, Golf Gear Umbrellas
- ZYNK Golf - Zynk Golf is a new Swedish brand that is designed to make golfing easier and then even more fun.
- HILLS GOLF CLUB – the leading golf course in Sweden, holding European Golf Tour for 2 years in a row Sponsored 4 greens fees.
- DORMY: manufactures practical and affordable golf accessories under its own brand such as travel cases, umbrellas and shoe bags Sponsored 2 light travel golf bag covers.
- DIGEA: Advertising agency in Sandefjord, the center for e-commerce in Norway
- SCORE4LIFE: international networking platforms
- H2 PRINT: leading partner in printing and graphic industry
- GOLFVISTELSE: golf travel operator to Portugal
Sponsored 1 gift voucher for the FREE training with the GOLF PRO #1 of the year 2018 in Sweden - Daniel Grestam!
As a great tradition GMP ran the random lottery among the participants for selecting the winner of the $500 Wild Card to the 5 th GMP Championship in Dubai 2020. We are happy to congratulate Mustafa Yildirim for winning the main prize and finally joining us in Dubai this winter.
In conclusion we would like to thank all the participants and sponsors for joining the event. This premier has given the ground to carry on and continue Business Match Play Tour in Sweden in 2020 with 6 different locations and final game in Dubai.
For partnership and next year sponsorship please contact claes@golfmatchplay.com.