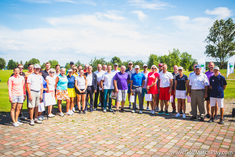 Street Milgravja 16,Riga
⛳ Location: Mīlgrāvja iela 16, Ziemeļu rajons, Rīga, LV-1034, Latvia
⛳ Number of Participants: 58
⛳ Format: Match Play
Full handicap.
On 16th of June 2018 we hosted the annual GolfMatchPlay Match Day in Ozo Golf Club in Riga, Latvia. 58 local and international golfers participated in the match competition and received valuable prizes. The event brought up the awareness of the GolfMatchPlay concept to the new members and reminded the main competition on the Leaderboard 2018, which awards with up to $12 000 sponsorship for the 4th GMP Championship 2019 in Dubai.
During the award ceremony 29 winners of the matches received the Gift Begs from the main sponsors of the event – Nike Golf Baltic, Korola, Johnnie Walker and GolfMatchPlay.
Along with that, extra contests were hold during the game, such as closest to the pin and longest drive. The winners Daiga Puisīte, Elena Shestakova, Reinis Miljons and Gints Zeltins received sponsored gifts from Nike Golf, such as shoe-begs, caps and golf umbrellas. Extra contests of Stroke and Stroke Neto won Elena Shestakova and Dāvis Tunsts and received Johnnie Walker Black Label Whisky. In addition, 5 lady winners of the matches were complimented with the Invitations to the "Black&White" Gala Dinner in restaurant Biblioteka #1 same evening.
As a great tradition, GolfMatchPlay run the Random Lottery for awarding the selected participants with the main prizes of the competition. Thus, two Nike Gift Packs and 5 Invitations to the "Black&White" Gala Dinner in restaurant Biblioteka #1 were determined on the first-place. The most awaited draw has selected two winners of $500 Wild Cards to the 4th GMP Championship 2019 in Dubai.
On behalf of GolfMatchPlay and partners, we congratulate Janis Vilums and Andrius Meyzis with winning the Wild Cards. It gives them already the guaranteed sponsorship during the tournament in January, though they are still able to compete on the Main Leaderboard and raise their sponsorship from $500 till $1000.
The event has been followed with the exclusive Gala Dinner in famous restaurant Biblioteka #1, organized by Score4Life group. 110 guests were invited to the party with welcome drinks, top-kitchen 3-course dinner, fascinating entertainment and many exciting contests with sponsored gifts. The afterparty has been held in the VIP aria of the nightclub Coyote Fly.
In conclusion, GolfMatchPlay received a great exposure in Latvia and looking forward to the next year event in Riga.
Video report from the GolfMatchPlay Match Day in Ozo Golf Club in Riga, Latvia 16 June 2018: